Log into Google Tag Manager.
Select the website to which you wish to add AudioEye.
Open Tags in the sidebar menu, then New. Create a tag.
Click Tag Configuration, choose tag type.
Then click the small blue banner, Discover more tags.
Choose AudioEye from the Community Template Gallery.
Log into your AudioEye Portal. Open Installation Instructions from the sidebar menu, and copy your Google Tag Manager Site ID.
Paste your site ID into the AudioEye Site ID field in Tag Configuration.
Publish your changes. That's it!
Verify Installation
Find the AudioEye Visual Toolkit Icon on your website.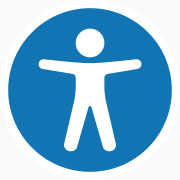 Log into your AudioEye Portal to view live monitoring for your site. Please note that it can take up to 48 hours for data to appear.