To install the AudioEye code on your site:
Log in to your AudioEye Portal.
In your site dashboard, select Installation Instructions.
Copy the AudioEye code to your clipboard.
Log in to your web host.
Open the editor for your site's footer.
Paste the AudioEye code into the footer. Pasting into the footer will ensure that the AudioEye runs on every page of your site.
Verify Installation
Find the AudioEye Toolbar Icon in the bottom corner of your web page: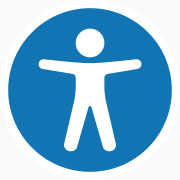 Log into your AudioEye Portal to view live monitoring metrics for your site. Please note that it can take up to 48 hours for data to begin populating.